(GMT)18 APR 2017 BRYNC:&nbsp Toledo has a complex history. It was conquered by the Romans in 192 BC. The Visigoths made it their capital in mid 6th century and it became Spain's religious center and political power. The Arabs or Moors arrived in the 8th century but the Jews and Christians continued to live here and were free to practice their respective religions.
In the 13th century Christians, Moors and Jews lived together in the city of Toledo and churches, mosques and synagogues and these buildings from this era give Toledo its unusual and beautiful combinations of architectural styles. Toledo is famous for its Manchego cheese and its marzipan. It is also famous for its sword-making (now devoted to the tourist industry) and remains an important centre for making knives.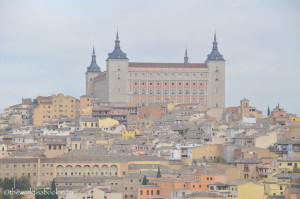 Sightseeing in Toledo, Spain: City of Three Cultures - The World Is A Book

Read why Toledo Spain is known as the "city of three cultures". Explore this UNESCO Heritage site and walled city with us.
http://www.theworldisabook.com/21991/exploring-toledo-spain-city-of-three-cultures/